Related Content
The COVID-19 pandemic affects everyone, everywhere, but it does not affect everyone equally.  It is deepening existing inequalities and...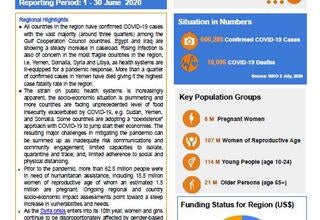 Regional Highlights All countries in the region have confirmed COVID-19 cases with the vast majority (around three quarters) among the Gulf...
UNITED NATIONS, New York – Officially, the COVID-19 pandemic has sickened 12 million people and left more than half a million dead. But the full toll...
Pages