You are here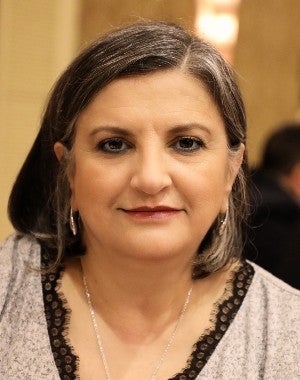 Ouahiba Sakani
Ouahiba Sakani, Assistant Representative, OIC, is a Medical Doctor (MD), graduated from Algiers University/Ministry of Health, Algeria, and holds a Master of Philosophy in Demography from Cairo Demographic Centre in Egypt.
Her main portfolio includes SRH and RR, Gender Issues and Gender Based Violence, and Population Dynamics. Additional working experience and competencies humanitarian work under several humanitarian programs for refugees and displaced populations; worked with UN agencies and international organizations such as UNHCR, International Rescue, and International Medical Corps (IMC) in Pakistan and Iraq.
She brings an international experience working in Egypt, Pakistan and Iraq, particularly in health programmes management i.e Reproductive Health including safe motherhood and family planning; STIs/HIV/AIDS, youth reproductive health and behaviour change; Male involvement in RH; community's awareness raising on gender based violence; advocacy on gender issues/women's empowerment and male involvement in GBV prevention; populations dynamics and development; programming, monitoring & evaluation of development programs; results based management; proposals writing and grants management.
She is a strong team leader and performer; ensuring representation and coordination with donors, national authorities and partners; and is guiding and supervising the overall cooperation programme of UNFPA with national partners and the Government. She has been in UNFPA Algeria Office since July 2013.